FINANCIAL TIMES - Battery technology gives China an opening in electric vehicles
Backed by Warren Buffet's Berkshire Hathaway, BYD hopes its cheap and powerful 'blade' technology will help it sell electric cars overseas. But it is already facing competition from Chinese rivals.
(By Henry Sanderson)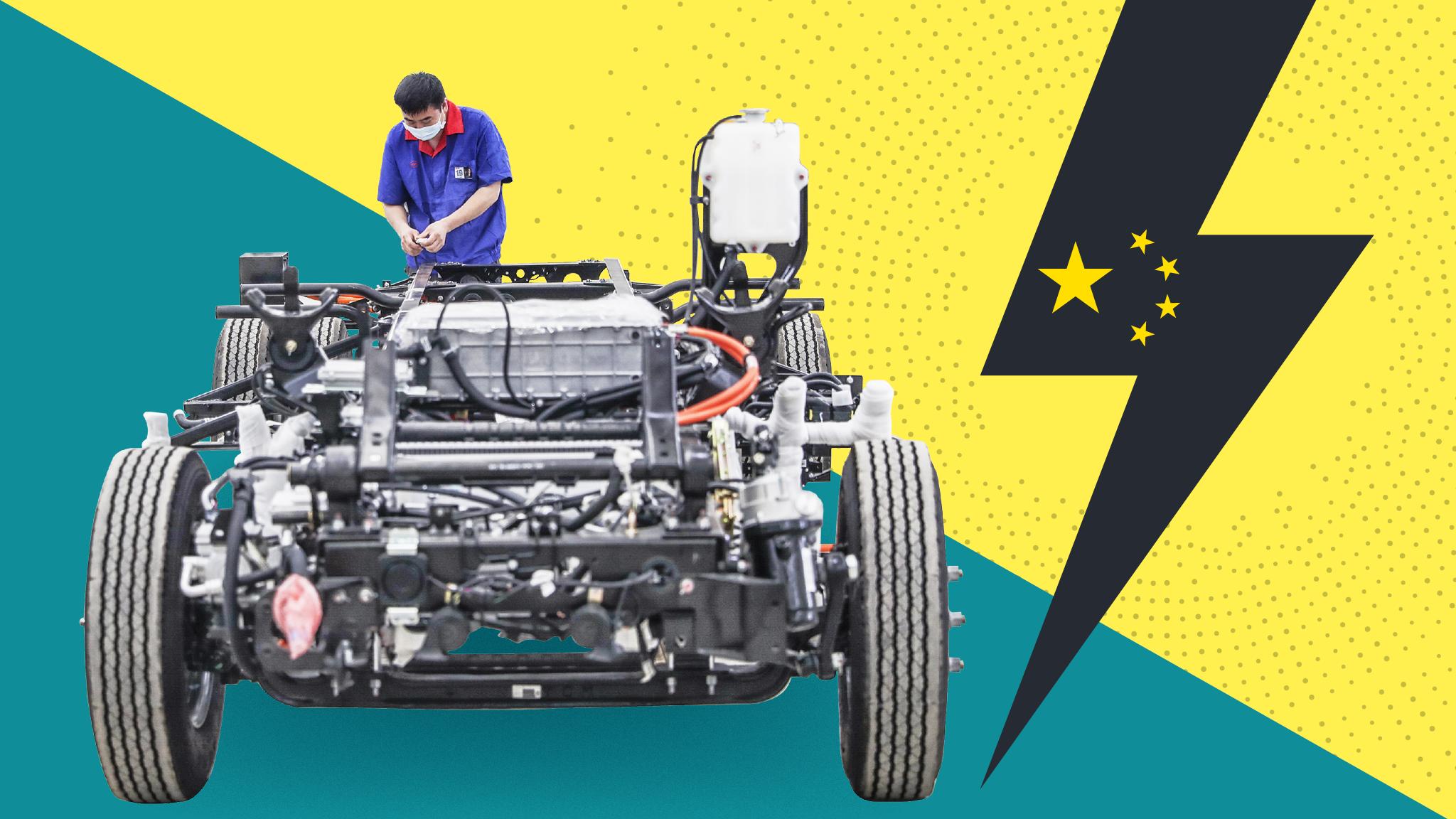 This summer the Chinese electric vehicle maker BYD shipped its red Tang sport utility vehicles to Norway, the country which has seen the quickest uptake of battery-powered cars. Named after the Chinese dynasty, the cars are powered by BYD's homemade lithium batteries, a technology it hopes will become a key platform for the global car industry. Founded in 1995 to make lithium batteries for consumer electronics, BYD has developed into one of the biggest producers of batteries for electric vehicles. BYD is now the world's second-largest producer of electric buses and the fourth-largest maker of electric vehicles.

Faith in the founder

A decade ago, it was far from certain that China or BYD would be successful in batteries and electric cars. The Toyota Prius hybrid was going from strength to strength and Japan's Panasonic dominated the global battery industry. The hundreds of Chinese battery makers across the country were considered only capable of providing low-grade batteries for mobile phones and laptop computers. Yet Buffett was among the few who believed in the potential of the company, based on belief in Wang, the BYD founder who Buffett's right-hand man Charlie Munger described as a mix between Thomas Edison and former General Electric chair Jack Welch.

Munger was first alerted to BYD by Li Lu, a Chinese-born hedge fund manager. When the chemistry behind these batteries was discovered, Manthiram says the practical applications for the material were thought to be low, due to its low conductivity and limited ability to store energy. The first lithium-ion battery that was commercialised by Sony in 1991 for use in its camcorders used a lithium and cobalt chemistry. Later nickel was added to lithium-ion batteries to increase the battery's power, especially for use in cars.

But BYD has increased the amount of energy that the batteries can hold by overhauling the engineering. While most car batteries contain cells placed together into a module and then a pack, BYD has built simple, long thin battery cells and placed them directly into a battery pack. At 96cm long and nine centimetres wide, BYD can pack 50 per cent more cells into the battery pack compared to conventional LFP batteries, according to the company. « What BYD has done well is optimising that material, making it into very big cells, which you can do because it's a safer material,» says Jerry Barker, co-founder and chief scientist at UK battery company Faradion.

.

.

Norwegian dream

Having a relatively cheap car only gets a company so far in markets that value reliability and customer service and where Chinese brands are barely-known. «They still have the heavy lifting to gain the trust from European consumers, American consumers,» says Tu Le, founder of consultancy Sino Auto Insights. These Chinese rivals include Nio, which began sales of its electric cars in the country last month. Even Chairman Mao's favourite car brand, Hongqi or Red Flag, is beginning to export its electric SUVs to Norway, while MG, which is owned by China's SAIC, is already selling cars in the country.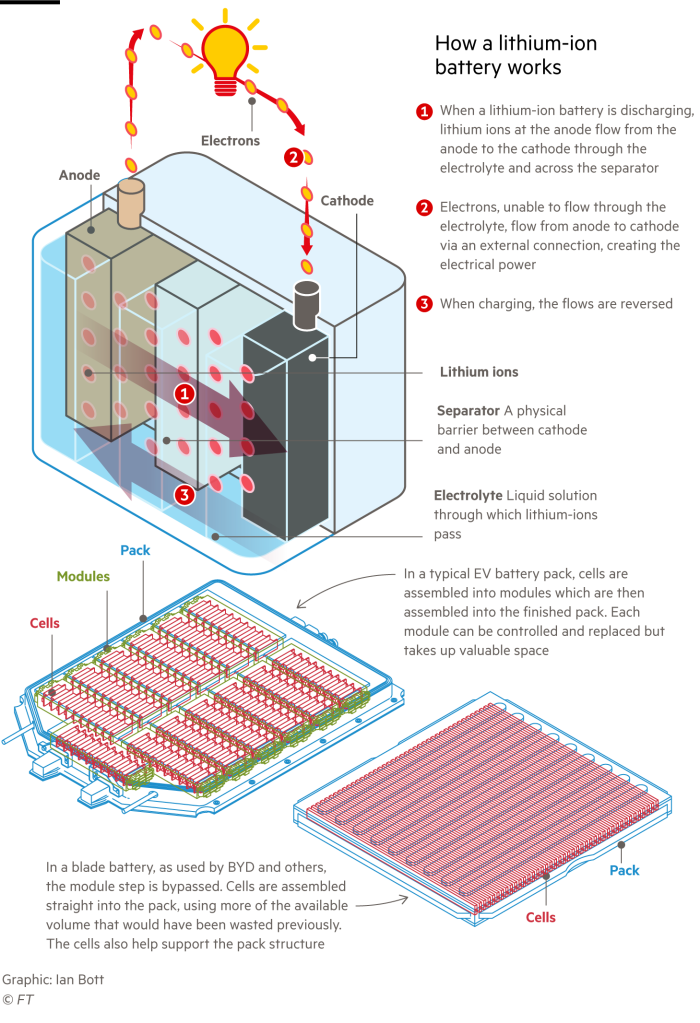 Opinion comment on the article:

I think this article highlights some key aspects of BYD's rise within China and the wider EV ecosystem. The mention of China's carefully crafted exclusion of foreign battery manufacturers is important too, it should not be glossed over or forgotten.

Firstly, if their batteries are so great, I wonder why BYD bother building and marketing whole cars at all. I see they are separately listing a standalone battery subsidiary, which makes sense to me. But, to the extent they remain a direct competitor, I suspect other car manufactures would be wary about relying on BYD for such a key component. More broadly, they will need to convince people outside their home market that Chinese cars are a safe and reliable vehicle option.

Secondly, I think it is important to know the carbon footprint of this technology. So, as is well known, China has one of the highest shares of coal-based electricity globally. So producing vehicle batteries with electricity from coal-fired power plants leads to an awful ecological footprint already at the battery-production stage. It also means that, given the current carbon intensity of electricity in China, an EV in China will hardly break even relative to an ICE powered car over its life cycle. If the battery already has an awful footprint, then also expect border adjustment taxes for carbon content in Europe and the US on such products in the future. Because of this, it seems that China's industrial strategy concerning EVs is less about protecting the climate but is an industrial policy aimed at bringing competitors in the European, US, Japan automotive industries onto a level playing field: none of them has a lot of experience in EVs (except maybe Tesla). Because the learning curve in automotive manufacturing is important, that makes it easier for Chinese carmakers to break into the market.

In conclusion, the premise is that the future will be just like the past but with electric powered vehicles. Perhaps the individually owned vehicle will give way to a different transport process. Perhaps we will simply move about less. I don't know if BYD will be successful in selling its cars outside of China. But its Blade battery is a winner and may become a global standard, hence Warren Buffet's early investment in it.